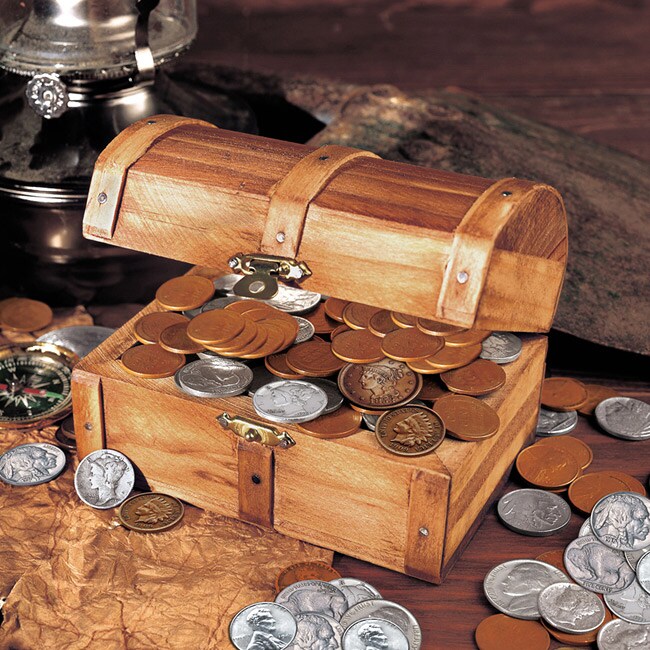 American Coin Treasures Treasure Chest of 51 Historic Coins
Product Description: Click here to view the certificate of authenticity for this item
The perfect addition to any coin collector, this treasure chest is filled with 51 historic coins. This chest contains copper wheat ear pennies, buffalo nickels and may even include a rare Indian head penny or liberty nickel.
Add to your coin collection with this treasure chest of historic coins
Collectible set includes 51 historic coins
Antique wooden chest full of coins a must-have for any collector
Includes
44 Lincoln Wheat-Ear Pennies (minted 1909-1958)
One 1943 Lincoln Steel Penny
One Jefferson Wartime Silver Nickel (minted 1942-1945)
One Buffalo Nickel (minted 1913-1938)
Two Silver Mercury Dimes (minted 1916-1945)
One Indian Head Penny (minted 1859-1909)
One Liberty Nickel (minted 1883-1912)
Note
*All retailers not collecting sales tax from purchasers in Colorado, Louisiana, Oklahoma, Rhode Island, South Dakota, and Vermont are required to give the following notice: Although we, as the seller, are not obligated to collect sales tax in your state, this purchase is subject to sales tax unless it is specifically exempt from taxation. This purchase in not exempt merely because it is made over the internet or by other remote means. Your state requires that you file a tax return at the end of the year reporting all of your purchases that were not taxed and pay tax on those purchases. Retailers that do not collect Colorado, Louisiana, Oklahoma, Rhode Island or Vermont sales tax, including ourselves, will provide you an end-of-year summary of your purchases to assist you in filing that report. You may contact your state's Department of Revenue for details on how to file this return. For purchasers in Colorado, Louisiana, and Rhode Island, please note that we are required by law to provide your state with a report of the total amount of all your purchases from us at the end of the year.